Port & Marine Engineering
GMAPS wholly-owned subsidiary, GMAPS Engineering Services (GES) Pte Ltd, is registered with the Professional Engineers Board of Singapore. The Directors of the company include the Professional Engineers: Law Kok Hwa and R Bawajee who each has more than 30 years of extensive worldwide engineering experience.
Detailed Port Engineering Design, Jazan Port, Saudi Arabia
JEC is a multi-billion dollar development comprising  a port and heavy / primary industries which include a steel cluster, aluminium smelter, oil refinery, tank farm, together with supporting power, water and desalination plants.
GMAPS' scope of work includes
Detailed engineering design for Phase 1 of the port development with a protected harbour,
an approach channel and two multi-purpose berths for handling containers, dry bulk and general cargo.
Design quay walls of the multi-purpose berths at the northern terminal including wharf facilities.

Manage the dredging of the inner harbour and approach channel, install navigational aids and
manage the disposal of unsuitable dredged materials.

Design the Harbour Master Building including M&E systems, workshop, gate,
utilities services, marine and radar systems.
Greenfield Deep Sea Port and Special Economic Zone Development, Dawei, Myanmar
This involves the development of a USD multi-billion greenfield Deep Sea Port and Special Economic Zone in Dawei, South Myanmar, covering 204 sq km.
GMAPS acts as the owner's representative and advisor for the Dawei Sea Port-SEZ Project, covering:
Master-planning and design of the port-wide infrastructure, with emphasis for a sustainable green port.

Full port development, encompassing financial, legal, commercial and operations advisory.

Commercial development of port and maritime sector for the Dawei sea port.

Port Upgrade and Expansion, Laem Chabang, Thailand
Laem Chabang Port will be developed by the Port Authority of Thailand under Phase 3 to increase its annual capacity from 10 million TEUs of containers to 18 million TEUs when completed in 2018.
GMAPS is studying the economic, engineering and environmental suitability of Phase 3 Laem Chabang Port development project.
It will master plan the development and design of docks, quays, navigation canals and wave breakers, including significant primary infrastructure of port and back up areas. It will also prepare bidding or tender documents for construction of Phase 3 development.
Tender Design for King Abdul Aziz Port, 2nd Container Terminal, Dammam, Saudi Arabia
The start-up phase of this project (Phase 1) is for the development of a 2nd Container Terminal with a total quay length of 600 metres and a back up yard of about 45 ha for King Abdul Aziz Port. The depth alongside the container berths is - 16mCD.
GMAPS scope of work includes the design of the quay wall including all wharf accessories, rails, fenders,bollards, ladders, turnover pits, trenches and conduits; the design of the container yard, including stacking yard, reefer yard and roads. It is also involved in the design of CCTV and communication infrastructure, rail yard within the terminal, HT power supply, electrification and lighting to yard and building architectural design.

Market Study, Master Plan and Engineering Design, Bangkok Port Terminal 3
The existing container and general cargo terminals at Klong Toey Bangkok Port is to be redeveloped into a new state of the art terminal 3 capable of handling up to 1.4 million TEUs pa.
GMAPS scope of work includes detailed market study and competitive analysis, highway and marine traffic studies, detailed terminal layout plans and engineering design for the wharf and terminal infrastructure.
Next Generation Marine Jetty & Offshore Support Base, Loyang, Singapore
In Singapore, the Toll Offshore Petroleum Services supply base supports oil/gas exploration and production platforms in the SE Asia region.
GMAPS helped to realign the existing jetty, develop a new wharf and dredge and deepen the basin. The key challenge was the fact that the base had to remain fully functional to service ships while construction works were in progress.
The works included project management and resident engineer site supervision, construction contract administration, including obtaining the necessary approvals from the authorities, the provision of expert advice for the marine structures and provision of QP for the duration of the project.
Inland Iron Ore Export Port, Taliabu Island, Indonesia
The client is developing an integrated pit-to-port infrastructure on Taliabu Island for exporting iron and copper ores. It has identified a site in Todeli for this marine barge terminal.
GMAPS scope of work included planning and designing the inland barge-terminal in Todeli, including detailed construction design for the berths, basin, shore protection works, groynes and markers at channel entrance, as well as the layout design for stack yard, conveyor, loading and unloading operations electricity and drainage systems, sewage sedimentation tank and splicing plant and buildings.
International Port and Industry City Concept Master Plan, Pulau Muara Besar, Brunei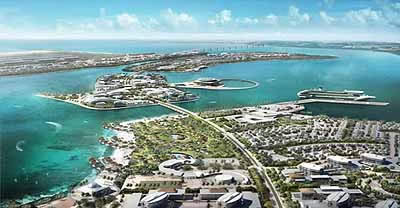 Pulau Muara Besar (PMB) is an island strategically located in Brunei Bay at the mouth of the Brunei River. Located next to Muara municipality, it is an ideal location site for a deep sea container port. GMAPS and its consortium partner Surbana International have been appointed by the Brunei Economic Development Board as master planner to provide consultancy services for the development of Pulau Muara Besar into a port based trading and industrial area.
The consortium performed Phase 1 of the project, which is the investigation stage. Under Phase 2, the detailed master planning of the Port and the agreed supporting services and industries were performed.
A bridge will eventually be built to link the island to the mainland.
The port will be developed will be in phases, with the first phase creating a straight line quay of 660m for container ships berths. It will include equipping the port with the following facilities:
New post-panamax cranes

Container yard with 156 reefer points (42,681 m2)

Total area of 34.3 hectares including container yard

Warehousing and free zone option
Mega Commercial and Industrial Port for Al-Ahsaa Economic City, Saudi Arabia
A mega commercial and industrial port is planned for Al-Ahsaa Economic City, located in Kingdom of Saudi Arabia, strategically between Qatar and UAE, to be known as the Al-Ahsa Economic City (ALEC). The port will be designed to meet the capacity requirements based on the economic studies by the business planning consultants up to the year 2030 and beyond.
GMAPS Concept Master Plan for ALEC port has 2 sectors: (i) the 6 million TEU commercial port and (ii) the industrial port.
The commercial port is designed on 6km of foreshore and backed up by 1km of land inshore. It will have both container terminals as well as multi-purpose terminals. The water depth at the quay will be dredged to -13.5 m. A Value Adding Logistics Park will be located next to the cargo terminals. The project also involves 60km long shipping channel, navigational aids, dredging and reclamation works. The industrial port facilities are ship-cargo handling facilities for the industrial plants. The industrial terminals will be dedicated to serving their own industrial plants.
Dolphin Reinstatement Works For Tuas Explosives Jetty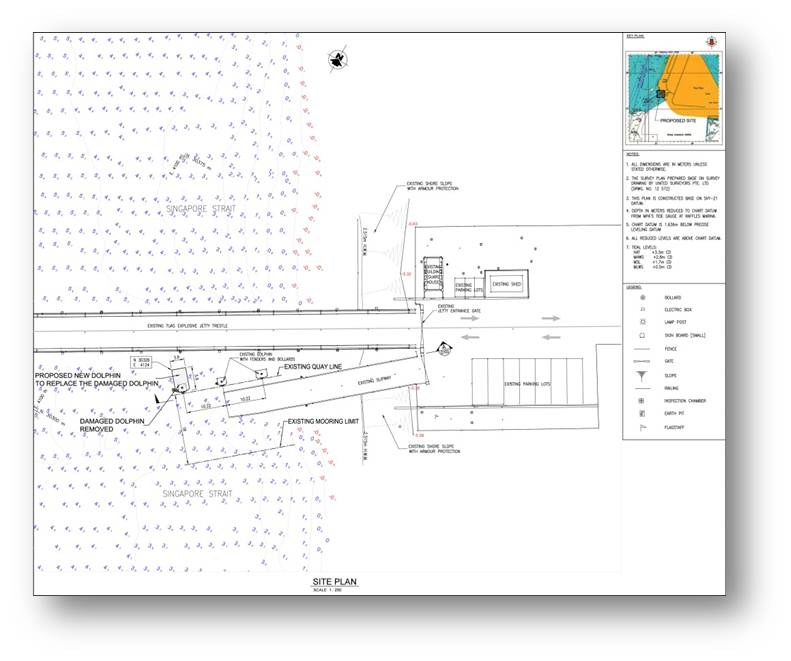 The jetty is used for unloading the imports of explosive materials and hazardous cargo. Part of the jetty sustained damage due to an operational accident.
GMAPS provides consultancy services to:
Call quotations on behalf of the client for site survey, soil investigation, accredited checker service and the construction works

Perform detailed engineering design for the dolphin reinstatement

Obtain the clearances from relevant government authorities

Construction supervision and contract administration
Preliminary Engineering Design Jetty and Marine Facilities For Lube Oil Storage Park
The client is commissioned by Shell, Total and Sinopec to design the tank farm, jetty and marine facilities infrastructure for a lubrication oil storage facility.
GMAPS provides the technical and engineering design services to:
Propose the alignment of the jetty and the marine access channel

Coordinate the simulation study for the current training wall

Provide jetty design basis, jetty detailed arrangement plans and sections

Provide the preliminary detailed engineering design and drawings
Provide cost estimates
Feasibility Study & Engineering Design: Integrated Marine Supply Base, Pulau Muara Besar, Brunei
Brunei Economic Development Board (BEDB) commissioned GMAPS to develop a Master Plan for an Integrated Marine Supply Base on Pulau Muara Besar. It is intended that all offshore oil and gas exploration and production supply base activities be consolidated at this Base.
GMAPS' scope of work includes 3 phases:
Phase I: Investigation/Study Stage
Demand requirements for oil and gas support services and fabrication works in and around Brunei waters.

Phase II: Planning Stage
Master plan and layout determination for the Base.

Socio-economic, Commercial and Regulatory Framework formulation.

Phase III: Proposal Documentation and Evaluation.
Prepare proposal documentation and Evaluation.
Preparation for Request For Proposals (RFP).
Evaluate and recommend RFP.
Technical Audit and Due Diligence Study, Red Sea Gateway Terminal, Jeddah, Saudi Arabia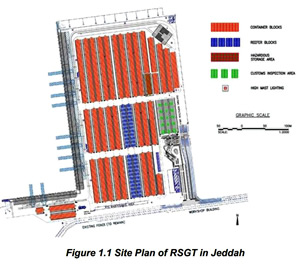 GMAPS was engaged by Red Sea Gateway Terminal (RGST) to conduct an inspection to address the maintenance issues and concerns highlighted by the client.

GMAPS' scope of work includes:
Conduct visual site inspection of all the buildings and wharf infrastructures included in the scope from RSGT.
Provide a comprehensive report on the inspection findings, comprising
(i) Defects List.
(ii) Recommended Preventive Maintenance Inspection Programme.
(iii) Recommended Preventive Maintenance Inspection Report and Check List.
Design Services and Project Management for ELF Petroleum Jetty Upgrade, Jasra Brunei
The existing jetty at Jasra, Brunei, is being expanded to handle larger vessels by adding dolphins, dredging and improving foundations
GMAPS proposed two schemes to accommodate OSB up to 4,000 dwt and a 200 tonne quay crane. Its scope included detailed engineering and construction drawings, technical specifications for fenders, bollards and soil investigations, structural design and drawings including pile foundation for additional silos, technical specifications and tender documents for construction work and construction supervision and contract management.
Deep Sea berths for Oil Storage Terminal, Paciran, Indonesia
GMAPS together with ROTARY Engineering Ltd designed berths for construction in high-wave harsh deep water environment to facilitate berthing of deep-draft tankers. The design solution included submarine pipelines to shore.
GMAPS performed the evaluation of the design and considered operational alternatives. It also performed the engineering design for the chosen option including shore facilities, 6 deep-sea berths, crash barrier, training wall and 3km submarine pipeline.
Techno-Economic Study for Coal Export Jetty, Penajam, East Kalimantam, Indonesia
The client intends to operate a coal mine south-west of Balikpapan, East Kalimantan. It plans to construct a sea jetty located about 5km from shore for loading coal into 8,000 dwt barges.
GMAPS scope of work included a technical feasibility study comprising site evaluation, concept design and cost estimates for the sea jetty; financial evaluation and economic viability including cost and revenue drivers for operating the jetty and the capital cost estimation based on the preliminary engineering design.
Inland River Container Terminal, Bangladesh
The client will be developing an Inland Container Terminal on the banks of Sitalakhya River, near Dhaka.
GMAPS' scope of work included site investigation and data collection, detailed engineering design of marine and shore facilities, preparation of tender documents and selection of port equipment and IT operating systems.
Container Terminal Concession and Bid Management, Lekki, Lagos Nigeria
The client requires technical inputs and assistance to prepare an Expression of Interest (EOI)
and Request for Proposals (RFP) for a sub-lease and operating agreement for a container terminal.
GMAPS' scope of work included the following:
I. Expression of Interest
Provide inputs to client to draft EOI.

Prepare pre-qualification documents.

Evaluate EOIs and shortlist pre-qualified operators.
II. Requests for Proposals
Prepare detailed bid documents.

Provide tender technical support.

Evaluate proposals.
Assist in negotiation with sub-concessions.
Assist in award of sub-concessions.
Assess market interest for liquid/dry bulk operators.

Navigation Impact Study of Shipyard Wharf Extension

With its existing configuration, there was a need to double bank vessels and conduct more frequent shifting of vessels, causing disruptions to operations. SSPL  proposed to extend the current berth superstructures. GMAPS was engaged to assess the navigational implications of the proposal with recommendations to meet the MPA's concerns.

GMAPS' scope of work:

Desktop simulation and analysis

Traffic impact assessment with mitigation recommendations

Presentation of findings and recommendations to MPA


Indian Ocean Cargo and Passenger Ferry Feasibility Study

GMAPS was commissioned by ADB on behalf of the South Asian Regional Economic Co-operation to undertake the following studies:

Prepare framework and identify priority projects.

Identify barriers for ferry connectivity between Maldives, India and Sri Lanka.

Study Navigability of waters and review traffic forecasts and on-site assessments.
Analyse transport demand and modal distributions for service levels on ferry routes.
Provide alternative financing schemes for project implementation.
Conduct comparable case studies on ferry services at the English Channel, Baltic Sea, Mediterranean Sea, Sea of Japan and Norwegian Sea Coastal Ferry Run.

Port Operations & Logistics Consultancy

Roadmap for Operations and Redevelopment of Bo Aung Kyaw Terminal

The client required an assessment of existing port facility in Yangon for its decision to bid to lease and operate the terminal.

GMAPS provides advisory to:

Assess current condition of proposed port facility.
Propose capital investment to redevelop the existing facility

Market research
Feasibility analysis & financial modeling
Leasing options
Develop new operating procedures for the terminal

Port Logistics Efficiency and Productivity Study, Bangladesh

This project for ADB involved two major areas of study focusing on Mongla Port and Benapole Land Port in Bangladesh.

GMAPS identified characteristics of existing port operations and prepared an overall port development framework for Bangladesh and studied recommended and prioritised further port productivity improvement projects for ADB financing.

Enhancing Container Freight Station Capacity and Operations Efficiency, Mumba, India

The project required an assessment of the modus operandi of the Container Freight Station (CFS) in Mumbai, India and to identify, define and recommend areas to improve the efficiency and capacity of the CFS.

GMAPS carried out the study in two stages:

Site visits and data gathering to obtain overview of current situation, stipulate terms of reference, assess findings & identify the barriers to efficiency.

Recommend operations and improvements to enhance the efficiency and to perform an engineering redesign to increase the capacity of the CFS.


Terminal Process Mapping and Re-engineering

GMAPS' scope of work included the following:

Process mapping and analysis
Benchmark and identify gaps
Re-engineering port operations
Management training
Business Model Study for Doha New Port Project
The client required to develop a comprehensive strategy for development and management of ports in the State of Qatar.
GMAPS' scope of work included the following:
Conduct an in-depth Market Study of Existing Terminal Operators
in the Middle East and Saudi Arabia.
Develop and propose a Business Model for the operations and
management of the Container and General Cargo Terminals.

Draft Tender documents including Terminal Management Contract and Joint Venture Agreement.
Feasibility Study to Develop an International Container Hub Port, Nantong China
The client is examining the commercial viability of developing an international container hub port in the Nantong-Tonghai area.
GMAPS scope of work included a feasibility analysis, forecasts of port demand a port master plan design.
Development of Maintenance Management
System for Cargo Handling Equipment, Indonesia

Indonesia Ports Corporation (Pelindo II) contracted GMAPS to develop a Maintenance System for Cargo Handling Equipment.

GMAPS' scope of work include the following:

Establish the adequacy of cargo handling equipment such as quay cranes, gantry cranes, tractors and trailers and engineering workshops to upgrade staff technical skills, operating conditions and support facilities.
Assess the experience and skills of staff and the resources for staff development training.
Recommend the optimal ratio between inhouse and outsourced maintenance and repairs.
Recommend efficient inventory management (procedures and processes).
Perform audit procedures to ensure best practice in documentation, tools/equipment, safety and security.
Review equipment performance and develop maintenance reliability management reports.

Evaluation of Port Equipment Purchase for Kalibaru Port Terminal 1, Indonesia GMAPS will determine the cost of equipment to be purchased by Inodonesia Ports Corporation by taking the following into consideration:

Initial purchase price;

Operational running cost; and

Cost of maintenance over the economic life span of the equipment.


Marine Services Consultancy

Port IT System Architecture Design Sands Management Information System ™

GMAPS developed a web-based proprietory (SAMIS) ™ vessel location and cargo handling system to track and manage the voyage and movement of vessels from port of origin to final destination. With advance notification of the vessel's ETA, GMAPS is able to plan and allocate berthing space according to vessel size and cargo type and quantity. Data mining and viewing of processes can be accessed on line 24/7 by clients and relevant authorities.

Ship Registry Portal

GMAPS was engaged by the General Organisation of Ports (GOP), Kingdom of Bahrain to computerise and automate its transactions portal with its shipping community for its ship registry. GMAPS designed the system architecture of the Ship Registry Portal for GOP.




Port Regulations Review Regulations Review, Port of Owendo, Gabon

In 2010, the Gabon Ports Authority (GPA) appointed GMAPS to review and enhance the Regulatory Framework of Gabon's Port and Marine Services Facilities. The assignment was to review and refine the existing regulations, introduce similar and consistent regulations for identified port and marine services and facilities which were not covered by any specific set of regulations, develop and implement a set of standard operating procedures that will enable GPM's personnel to efficiently regulate and supervise the industry.

Licensing Regulations, Mina Khalifa Bin Salman, Bahrain

Similar services were also provided to the General Organisation of Sea Ports (GOP), Kingdom of Bahrain in line with GOP's aim to regulate, develop and promote the Kingdom's maritime and logistics industrial zones by applying international standards and optimising all opportunities for GOP's clients.





Training and Development Services




Port Management Management of Site Deposition Sites

GMAPS has been engaged by Jurong Town Corp. to manage its import and storage of marine sand from distant sources, GMAPS manages the operations by controlling the vessels' traffic movements from loading site to discharge point. GMAPS' works include quality and quantity certification, workplace safety and security.




Management of Dredging and Reclamation Works

GMAPS' full-time personnel have decades of experience in major reclamation projects. One of GMAPS' key reclamation specialists is Er. R Bawajee. Some prominent projects managed by Mr. Bawajee include the Changi East reclamation for the Singapore international airport (2000 ha.), Pulau Tekong Besar (500 ha.), Sentosa Cove and various other Singapore offshore islands.

Management of Project Cargo and Heavy Lift Operations

GMAPS' team of Master Mariners are well qualified in planning the loading, discharging and lashing of project cargo and heavy lifts; including the calculation of vessel stability.